REGULATE THE HUMIDITY LEVELS (40-60%) AND ABSORBS THE MOISTURE ONLY WHEN NEEDED
The continuous use of Humydry products help to achieve an ideal level od household comfort. Musty odors. Eliminates musty odors and prevents them from forming in enclosed or poorly ventilated spaces such as bathroom, basement and closets. Chilly sensation. Dampness can often lead to uncomfortable coldness in rooms, aggravating rheumatic and muscular aches.
Controlling dampness is the key to achieving optimal air quality in your home. Allergies. High levels od humidity can give rise to mold and mites. These are unhealthy, and can impact children and people with respiratory ailments such as asthma. Viruses. Controlling the humidity levels in our homes and offices can slow the spread of viruses
Humydry helps keep property in good condition and prevent unnecessary repair costs. Energy. It is easier to heat or cool a house with a dry atmosphere than a damp one, which means Humydry products will help you save on energy too. Maintenance. Reduces repair expenses. Prevents stains on the walls, peeling paints and other problems associated with excessive moisture.
HUMYDRY, THE SPECIALIST IN MOISTURE ABSORBING SOLUTIONS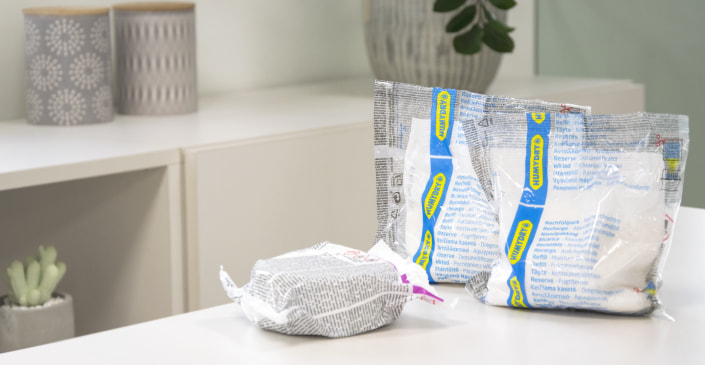 REFILL SYSTEM
The calcium chloride refills are placed on the unit's filter and start working immediatly. In a few days, you'll see the unit's reservoir begin to fill with liquid absorbed from the air
Easy to use
Economic
Sustainable
The refills last 1-3 months depending on the temperature and humidity in your room.
They are individually packaged to avoid early activation.
Unscented and fragance available: Lemon, Apple and Lavender. Air freshener and moisture absorber in a single product!
Thinking about buying a moisture control product?
If you're looking into buying a moisture control product or moisture absorber, you surely have a humidity problem. More specifically, the problem you have is caused by excess ambient humidity that is condensing on your walls and windows, which can lead to mold stains, mildew, peeling paint, etc., not to mention how uncomfortable excess humidity can make you feel.
Are you considering buying a moisture control product? Your best bet is a HUMYDRY moisture absorber. Why? Very simply…
Because they work immediately, from the very first moment, to regulate the level of ambient humidity to its optimum level (40-60%).

Because they work without electricity or batteries, which means you can always put them right in the place where you have humidity. You also save energy, so you save money.

Because they work silently. They don't make noise like electric dehumidifiers.

Because they are efficient thanks to HUMYDRY's absorbent granules, which activate automatically when the humidity is too high and deactivate when the optimum humidity level is reached, which means your rooms will never be too dry.

Because there's a HUMYDRY product designed for every space that might have humidity. We even have solutions for cars, motorhomes and boats.

Because, in addition to effectively regulating ambient humidity, many HUMYDRY products release fragrance so you can enjoy a pleasant perfumed environment.

Because HUMYDRY products are synonymous with quality at the best price, and HUMYDRY offers economical refills to go with all our moisture control products.

Because HUMYDRY has been solving humidity problems in homes all over the world for more than 25 years. We're experts in the best humidity solutions. Millions of customers have placed their trust in us. There's a reason for that.

Because of the savings: in addition to saving on electricity, the price of our moisture absorbers is much lower. How much does an electric dehumidifier cost? 200 dollars?  Our most expensive moisture control product is about $18.99. Why not give it a try?
Still haven't made up your mind? Enter and explore our website. Check out our products and see what we've got to offer. Take a look at our blog and write us if you have any questions.
Try HUMYDRY: You'll solve your humidity problems and also save money. Forget about dehumidifiers and discover moisture absorbers.
SUSTAINABILITY
We strive to constantly improve production, prevent waste and eliminate environmental pollution.
The design and manufacturing of our products accomplish at least one of the 3R's.