Most Humydry® products work with a calcium chloride refill system that collects humidity and deposits it in the Humydry® tubs.
The calcium chloride refills in bag form are placed on the unit's filter and start working immediately. In a few days, you'll see the unit's reservoir begin to fill with liquid absorbed from the air.
When the calcium chloride granules in the bag are used up, just empty the reservoir and put in a refill. Refills are inexpensive and continuously remove humidity from the air.
Make sure to use the right refill for the product you're using. All HUMYDRY® products are labeled with the weight of the calcium chloride refill for easy identification.

HUMYDRY REFILLS LAST FROM 1 TO 3 MONTHS
depending on temperature and humidity levels in the room.
EASY TO USE
Once the refill runs out, empty the tub of the device and insert a new refill. It's that easy!
ECONOMICAL
You don't have to buy a device each time, so the replacement system is much more economical.
SUSTAINABLE

Reuse your devices for years to come. You do not have to throw it away every time you use it - the planet will thank you!

HUMYDRY REFILLS DO NOT DRY OUT THE ENVIRONMENT
Achieve optimum humidity levels in the environment (40-60%)
How do Humydry refills work?

Humydry® refills are composed of calcium chloride. This inorganic and mineral compound has highly absorbent properties. Calcium chloride, when in contact with humid air, absorbs excess moisture and deposits it in the unit's tray as a liquid. Humydry® dehumidifier refills are packaged in a "non-woven" bag, which prevents direct contact with the skin and prevents dust granules from escaping to the outside.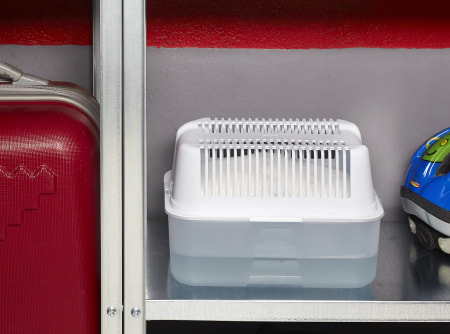 Available scents In addition to absorbing moisture, scented refills bring a pleasant scent to your rooms: